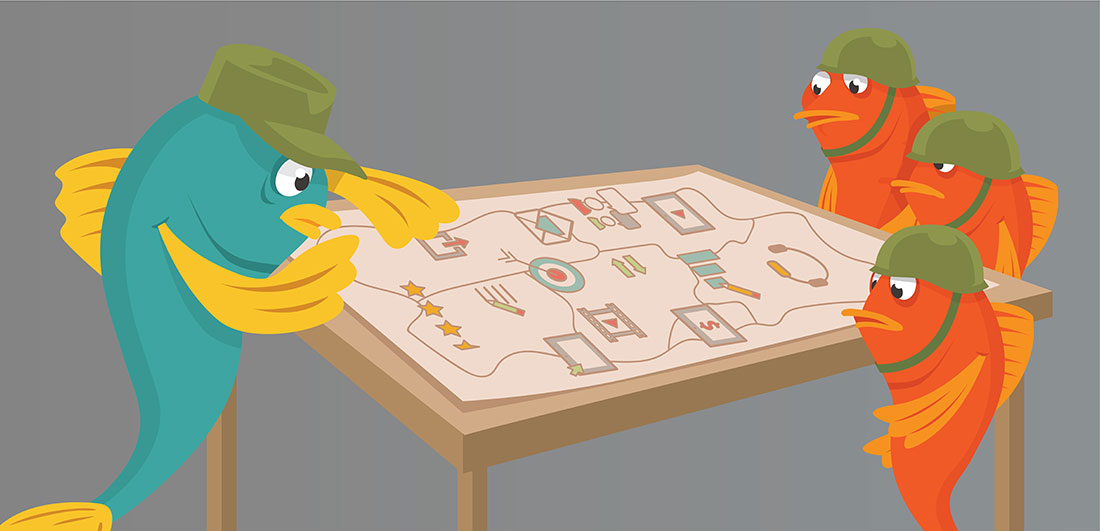 18 Dec

21+ Software Marketing Strategies to Help Grow Your SaaS Platform

When it comes to marketing Software-as-a-Service (SaaS) to other businesses, a strategic marketing plan is key. Luckily, there are countless fun and inventive strategies out there, allowing you to craft a campaign that is as unique as your brand.

In this article, you'll find over twenty different software marketing strategies tailored for SaaS companies. If you have a small team, though, we recommend focusing on only a few tactics. Once you have those mastered, you can expand your marketing strategy.

In the end, the best strategy is one that provides value to your ideal customers while communicating your brand effectively. So let's cover some strategies and help you find the perfect fit for your company:
1. Upgrade Your Customer Service
Great customer service doesn't just involve fixing problems or helping customers learn how to effectively use your software. It's also about anticipating problems and offering preventative solutions that are incredibly simple to find and understand.
Most people assume that a self-service knowledge base is the obvious way to do this. However, according to a study by Nuance Communications, 58% of customers cannot find their answers online, and 59% of them are frustrated when they need to reach out to a live agent. 71% of customers say they'd prefer that a virtual assistant show them the right answers so they don't have to reach out to a live agent.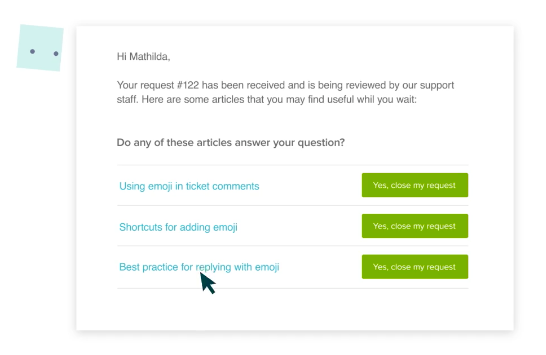 (Source)
Luckily, Zendesk already offers an AI-powered assistant that can help customers with mundane tasks, while Forbes assures that conversational AI for more technical questions is on the horizon. Keep your eye on that technology as it develops and be the first to offer it to your customers.
2. Meet Customer Needs
It might go without saying: to stand apart from competitors, hone in on your unique selling proposition and make sure no one is doing it better than you. But what if there's room for improvement?
When developing or refining your software, you probably know to check in with your customer support team to learn about common customer questions or complaints. However, consider checking in with your sales team, too.
They've spent countless hours listening to prospects' needs and pain points. It's likely that they have some great ideas about uncornered markets or how to improve your software.
3. Target Review Sites
Capterra and G2 Crowd are online review services that help businesses find the right software for their needs. Capterra claims to have over 5 million active buyers a month, while G2 Crowd claims to have 1.5 million. In any case, both websites have a lot of potential for software companies.
Capterra and G2 Crowd both offer free basic listings. That means you can add an overview of your software with screenshots and feature listings on the website for users to leave reviews.
However, Capterra's default view is to show pay-per-click listings first: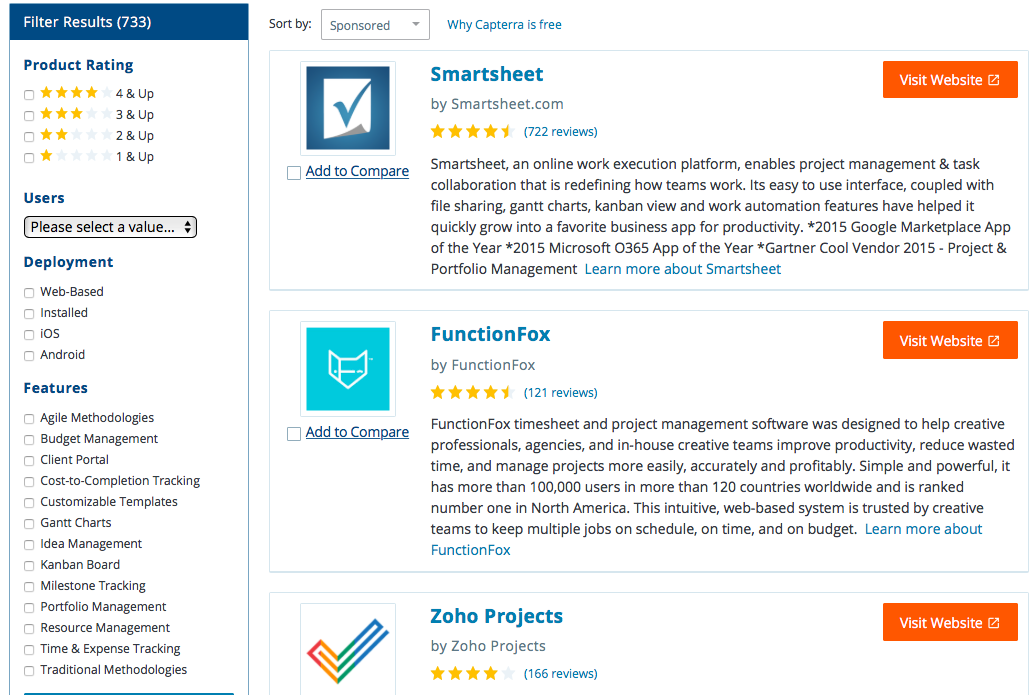 Paying for sponsored posts provides you premium placement in the software directory, multiple links to your website, and optional landing pages optimized for lead generation.
G2 Crowd's paid functions are a little different. In addition to competitive placing, paid G2 Crowd accounts enjoy custom branding, the ability to add gated content, and FAQs for buyers.
4. Create Unique, Long-Form Content
Despite everything you hear about waning attention spans, long-form content has consistently proven to drive site traffic. The top ranking posts on search engines usually have at least 2,000 words or more: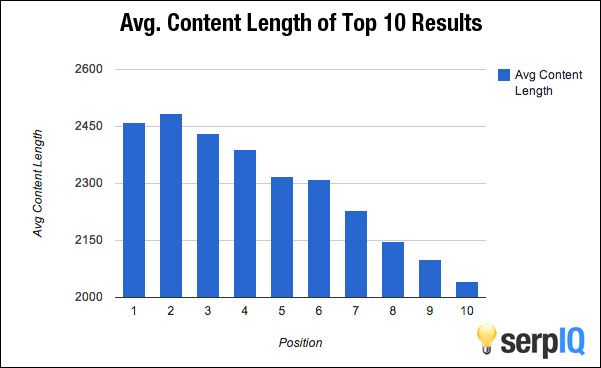 (Source)
Long-form content isn't just ideal for blogs. It works on homepages, too. The web-analytics service Crazy Egg was able to increase its conversion rates by 30% simply by extending the length of its homepage.
However, don't expect to publish a 5,000-word blog post and have visitors come pouring in. Search engines like Google count a variety of factors when determining rank position. In addition to content quality, backlinks and social engagement are often cited as top ranking factors.
With that in mind, focus on creating content with the potential for high levels of community involvement and virality. Groove, a helpdesk startup, designed their blog around a live challenge. They invited visitors to sign up for their email list so they could follow Groove's journey towards achieving $100,000 in monthly revenue. Groove vowed to share all the lessons they learned along the way in their content: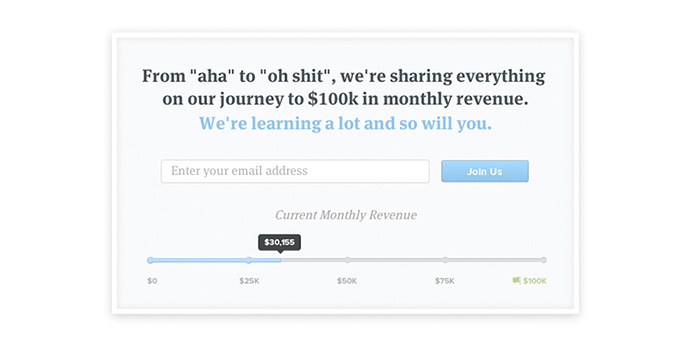 (Source)
The end result exceeded expectations. Groove's blog received 250,000 visitors per month and they were able to grow their revenue to $500,000 per month, all while only investing in content marketing.
The takeaway?
Long-form content is reliable, but long-form content coupled with out-of-the-box thinking is even better.
5. Make Your Site Trustworthy
Displaying third party approvals shows that your software is reliable, professional, and high quality. There are several options to choose from.
Google Customer Reviews allows customers to leave reviews with companies who participate in the program: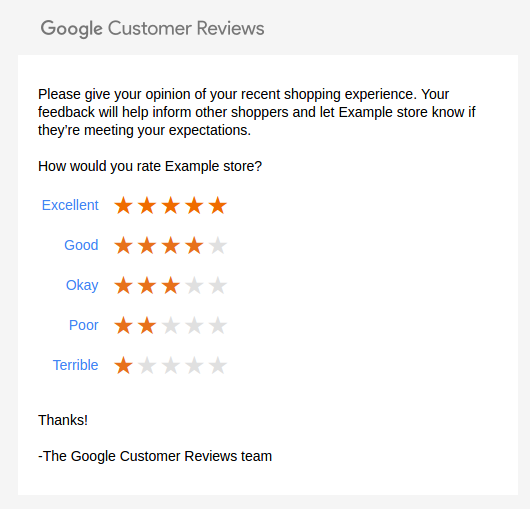 (Source)
It replaced the Google Trusted Stores program and can be linked to Google Ads to generate seller ratings, seen on the ad in the form of stars.
Another option is having a Norton Secured seal. Norton has been around a long time, so brand awareness and trust is high, especially when it comes to technology and security.
An accreditation from the Better Business Bureau is also an achievement that most people will immediately recognize and trust. Best of all, if you're still a relatively new company with only a few (if any) customer reviews, accreditations from Norton and BBB are a great way to visibly increase credibility.
6. Upsell and Cross-Sell
An upsell is something sold to an existing customer that increases the functionality of their original purchase. When the cashier at McDonald's asks if you would like to supersize your order, they are attempting to make an upsell.
A cross-sell, meanwhile, is a product that is similar or complementary to the customer's original purchase. This would be the equivalent of the McDonald's cashier asking, "Would you like fries with that?"
Upselling and cross-selling are vital components of any SaaS business model. Not only do B2B companies experience 90% of customer revenue following the initial sale, but it's actually cheaper for SaaS companies to earn another dollar of revenue from an existing customer as opposed to a new customer.
A 2015 survey by Pacific Crest Securities found that it costs SaaS companies $0.28 to earn another dollar of revenue from an existing customer and $1.18 from a new customer, meaning upselling is 4x cheaper than acquiring new customers: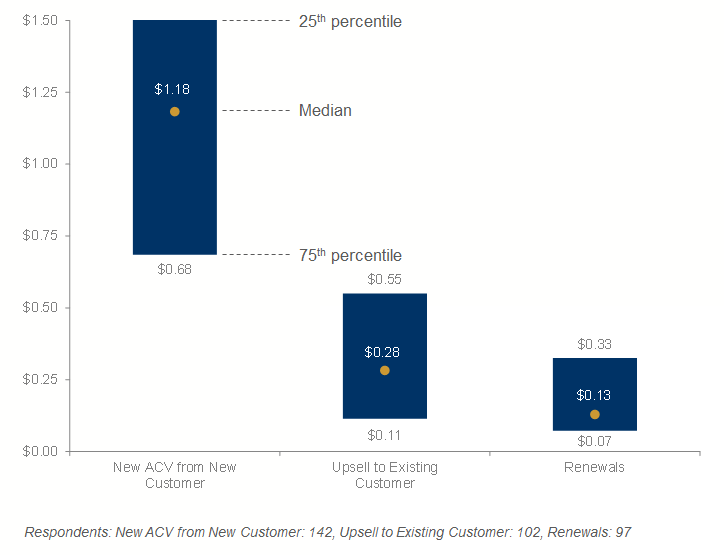 (Source)
Upselling and cross-selling come in many forms and don't require much extra work. It could be as easy as offering premium versions of your software, options and customizations, extended service, or financing.
7. Know Your Ideal Customer
An ideal customer profile (ICP) is a description of a customer who would not only benefit from your software, but would also offer significant value in return, such as client referrals and an extended customer lifetime.
Some startups are initially resistant to having an ICP. It may feel limiting, as though you're closing yourself off from whole sections of the market. However, having an ICP keeps your marketing and sales teams focused on the prospects and companies who are most likely to buy from you and remain lifelong customers.
Some basic things to take into account when developing an ICP are industry, location, company size, and budget.
For example, here's an ICP for Propeller, a CRM for Gmail and Google Apps:
(Source)
In addition to the basics, they've imagined their ideal customer's pain points, decision-making factors, and business objectives. With this information, Propeller's sales reps can refine their pitches and pursue the most high-quality prospects.
8. Use Paid Advertising
Some of the most popular paid advertising opportunities are with Google and Facebook ads. A well-executed ad campaign has the potential to radically change your business.
But Google Ads, in particular, have a reputation for being a little daunting, especially if you don't have any experience running PPC ads. Investing in a consultant or employee who can navigate the platform can pay off in a big way.
Imperva Incapsula, a cloud-based service that makes websites of all sizes safer and faster, invested in consultants to execute their Google, LinkedIn, and Facebook campaigns and build optimized landing pages: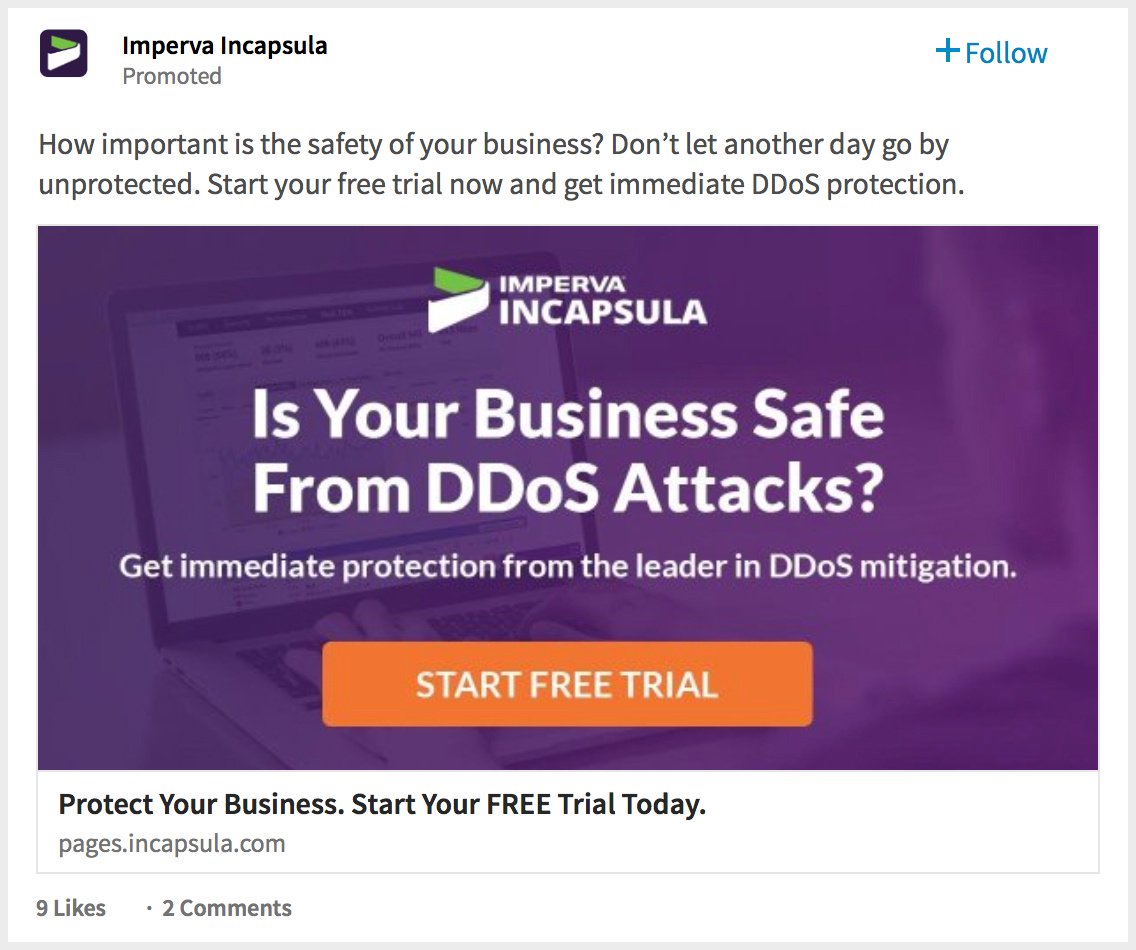 (Source)
The results speak for themselves. Imperva saw a 585% increase in sales opportunities, 1,102% increase in the number of customers won, and $2.9 million increase in revenue.
Ad campaigns aren't just for businesses earning millions of dollars in profit. ServiceBridge develops software to help companies manage work order scheduling and distribution. Investing in Google Ads helped increase leads by 180% in 90 days.
9. Enable Google Seller Ratings
If you start executing Google Ad campaigns, be sure to enable Google Seller Ratings too. A Google Seller Rating is a rating out of five stars that appears within the ad, as seen in this campaign by Drip, a provider of email marketing software:

The rating appears when a business has at least 150 unique reviews in a year with a rating of at least 3.5 stars. Reviews must be completed through Google or one of its partners, such as Trustpilot, Bizrate, or Yotpo.
Google claims that showing seller ratings can increase click-through rates up to 10%. Results are known to vary from company to company, however. A report from Search Engine Journal said that some advertisers saw CTR increase by more than 100% for ads, while others saw CTR increase by 5.9%.
10. Become an Authority
Being an authority, also known as being a thought leader, is all about having the answers to your buyer's questions. Thought leadership positions you as an expert on a subject and someone who can be trusted with new business.
Your content is what lends you credibility. Blog posts are a great medium for anticipating buyer questions or pain points, then answering them.
Hubspot's blog is a perfect example of this: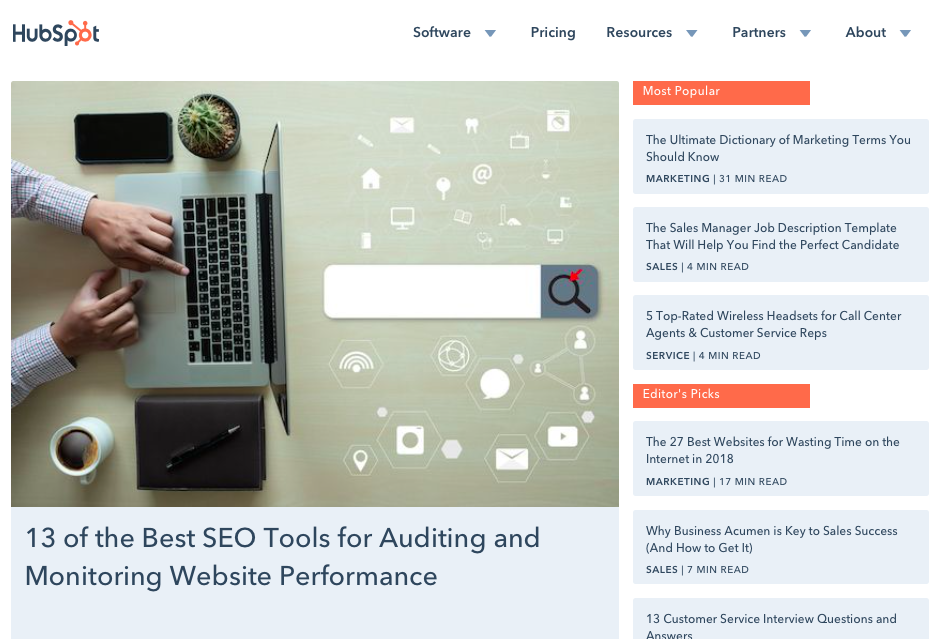 (Source)
The CRM provider publishes articles that are highly relevant to their ideal customers and users, who are sales reps, marketers, and help desk agents.
The important part is to put your customer's needs front and center. Generate content ideas by asking existing customers or ideal customers what they're biggest questions are about your software or industry, then get to work on delivering the answers.
11. Increase Domain Authority
Domain Authority is a metric from zero to 100 that predicts how well a website will rank on search engine result pages (SERPs). The number is influenced by a variety of factors, most notably the number of high-quality external links pointing to the site (known as backlinks).
According to Moz, a provider of SEO tools who originally developed the metric, the best way to increase Domain Authority is to focus on increasing overall SEO, in particular by gaining more external links.
Here's Hubspot's Domain Authority score from Moz: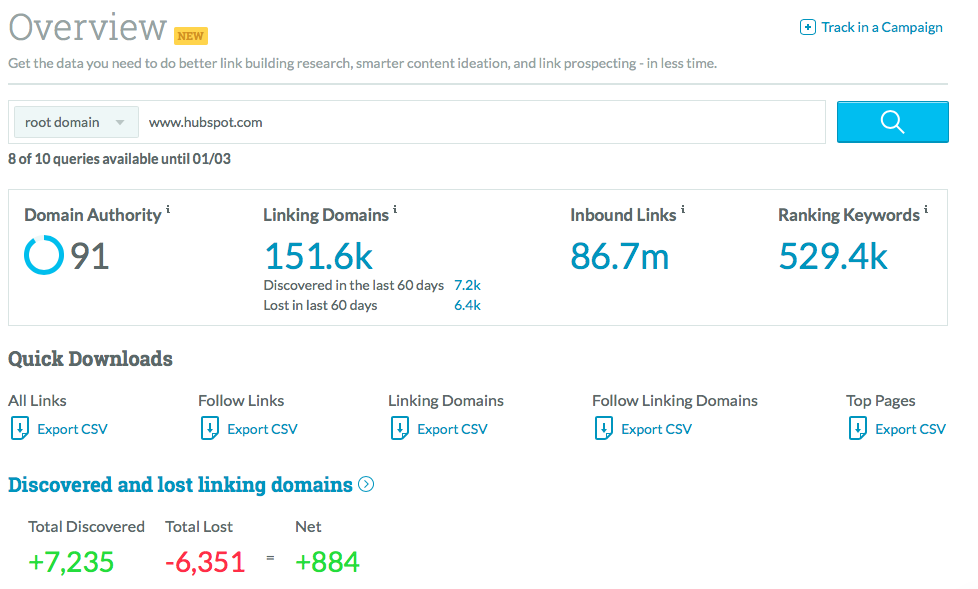 There are 151.6k other domains that are linking to Hubspot's content. This tells Google or other search engines that the site is extremely valuable to users and deserves a higher spot on search rankings.
Meanwhile, here's the Domain Authority for Drip, the email marketing service: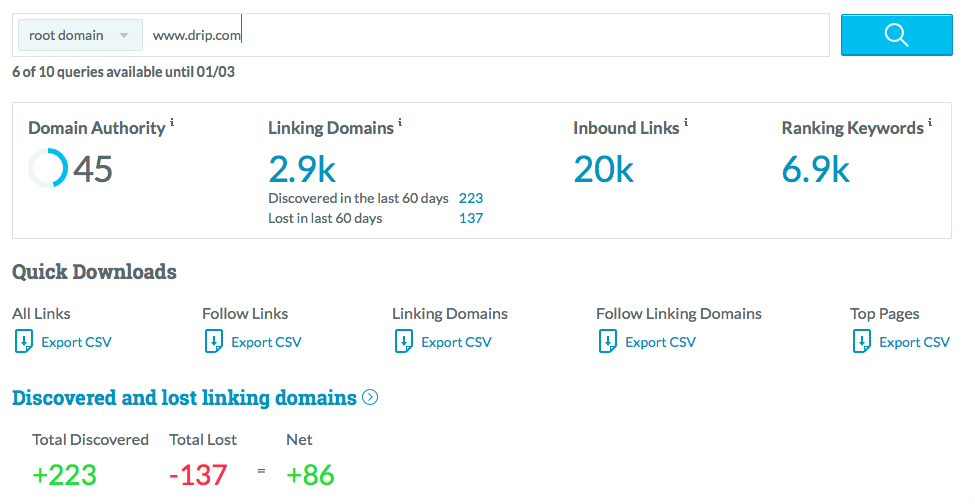 While the overall number of linking domains and inbound links are still sizable, Drip still only has a Domain Authority of 45. This is to be expected; Hubspot has nearly ten years on Drip and an endless supply of content.
Moz notes that it's easier to increase Domain Authority from one to 20-30, then it becomes increasingly difficult to grow further. It takes time and a lot of high-quality, engaging content.
12. Invest in Solid Branding
Many SaaS companies choose to forgo solid branding in favor of focusing on consistent customer service and support. While that is certainly important, the necessity of strong branding for SaaS businesses cannot be understated.
One example of a SaaS brand done right is Slack, a workplace communication tool. Slack didn't become a company with 500,000 daily users without being at least a little bit addictive. Their brand voice, therefore, is essentially "meme-able":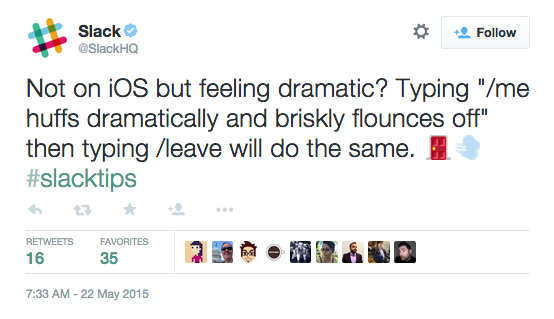 (Source)
The logo has also become immediately recognizable, proof that investing in a decent branding consultant and designer can have lasting returns.
13. Create Video Content
Creating helpful video content is a great way to establish yourself as an authority while grabbing people's attention.
HubSpot takes full advantage of this, publishing videos on a variety of topics that appeal to their ideal customers:
Video content doesn't need to be expertly produced or involve a lot of creation time, either. While suggested video length differs for each social media platform, the two minute mark is good place to end things on Facebook and YouTube. Instagram videos should be 60 seconds maximum, and Twitter videos 30 seconds maximum.
14. Ask for Testimonials
In addition to activating Google Seller Ratings on ads, having testimonials visible on your website's homepage and landing pages can increase your product's credibility and social clout.
Asana, a project management tool, takes a clean approach to displaying testimonials on their page: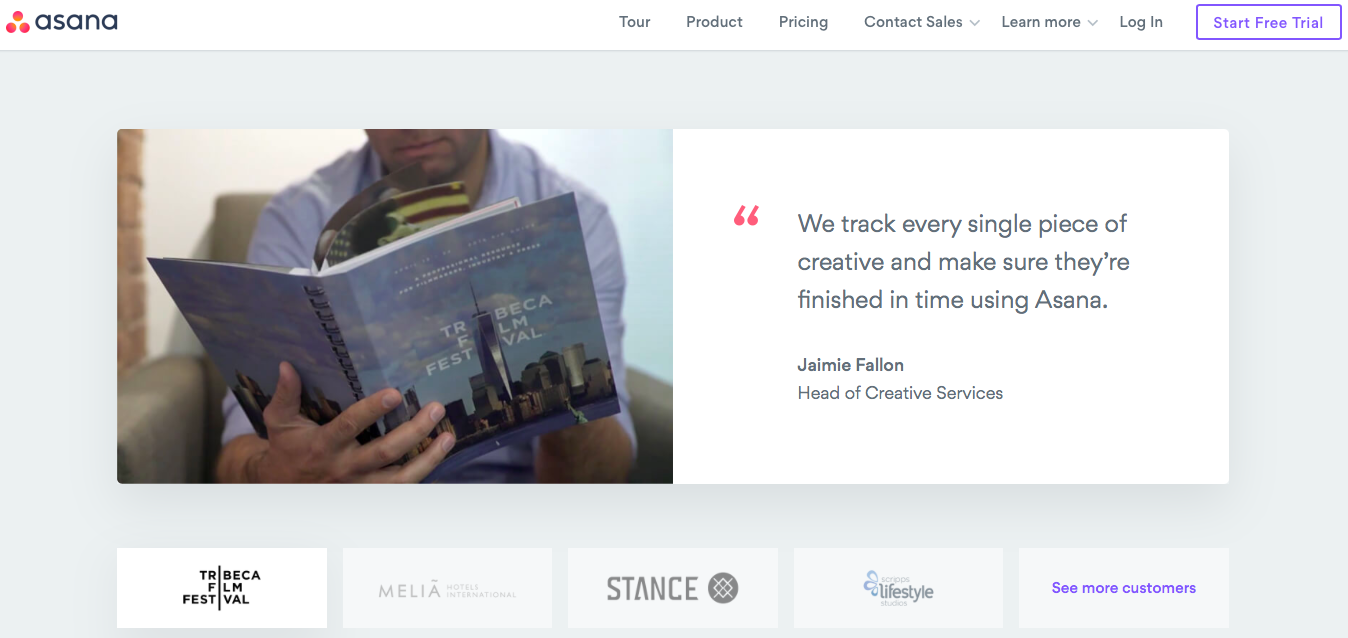 Asana picks the most impactful quotes from their customers and puts them front and center.
Monday.com, a simple CRM platform, chooses to display video testimonials instead: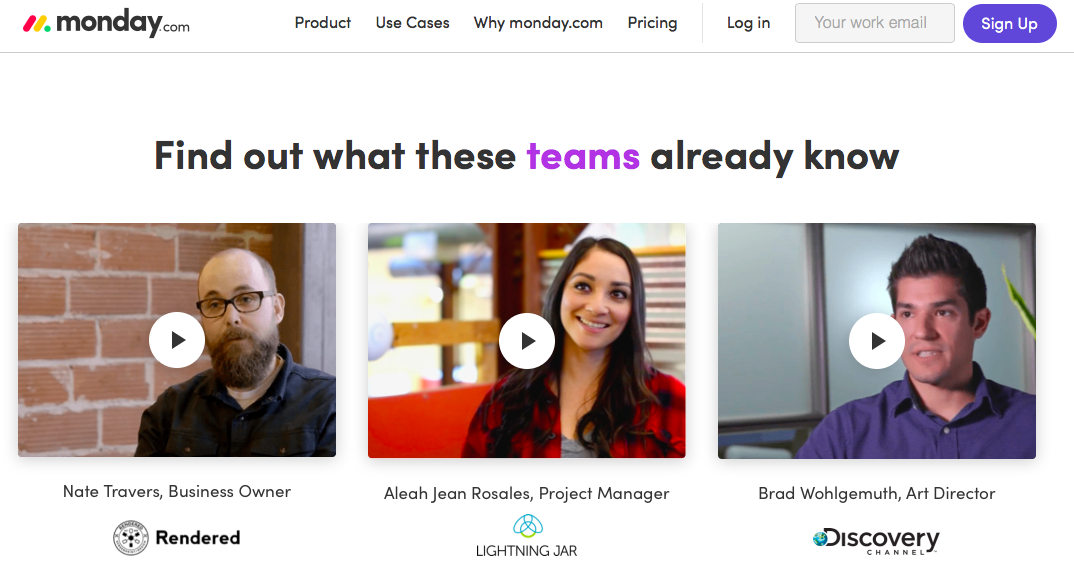 (Source)
This makes testimonials a little more personal and might be more useful for customers who are still on the fence.
Although many loyal customers will be happy to write a testimonial for free, if you're already using a review service like Trustpilot or Yotpo to activate your Google Seller Rating, you can incentivize reviews by offering discounts or other freebies.
This is especially useful if you're interested in a video testimonial, which requires more time and effort for the customer.
15. Create Infographics
You've seen them and you've shared them. Infographics distill topics down to their most basic details and statistics for quick and easy sharing. Writers use them often as supplements to blog posts, making infographics a worthwhile part of your link building strategy for increasing Domain Authority.
Here's an example from For Entrepreneurs, who conducted a private SaaS company survey in 2017:

(Source)
The infographic shows data about growth and sales approaches that managers or C-level executives would find interesting and informative. The design is clean and to the point.
Not all infographics are created equal. Some can be chaotic, colorful eyesores. When hiring someone to create an infographic for you, keep this infamous infographic about infographics in mind: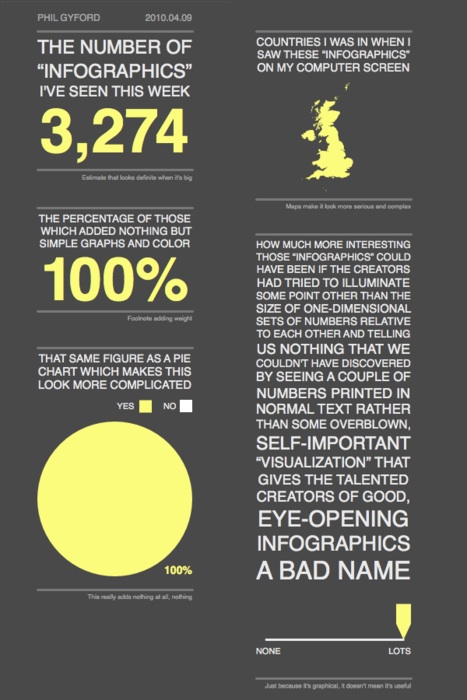 (Source)
16. Create an Animated Explainer Video
Animated explainer videos can help small and large SaaS companies alike communicate brand identity and how your product works. The best videos emphasize buyer pain points and how your software can solve these problems for customers.
Here's an animated explainer video for Hewlett Packard's AppPulse, which helps IT teams monitor their website performance, diagnose issues, and provide an excellent user experience:
Here's another one for Crazy Egg, a heatmap tracking tool that can help users increase conversions on their site:
This video is successful because it breaks down a complicated issue and solution in a more approachable way. The results? Crazy Egg increased their own homepage conversions by 64% thanks to the above video.
17. Give Out Free Content
Providing visitors with free content is a great way to become an authority in your industry.
Almost every SaaS heavyweight has fully embraced this content marketing strategy. Companies like HubSpot and Buffer have huge blogs covering a wide variety of topics that cater to their ideal customers: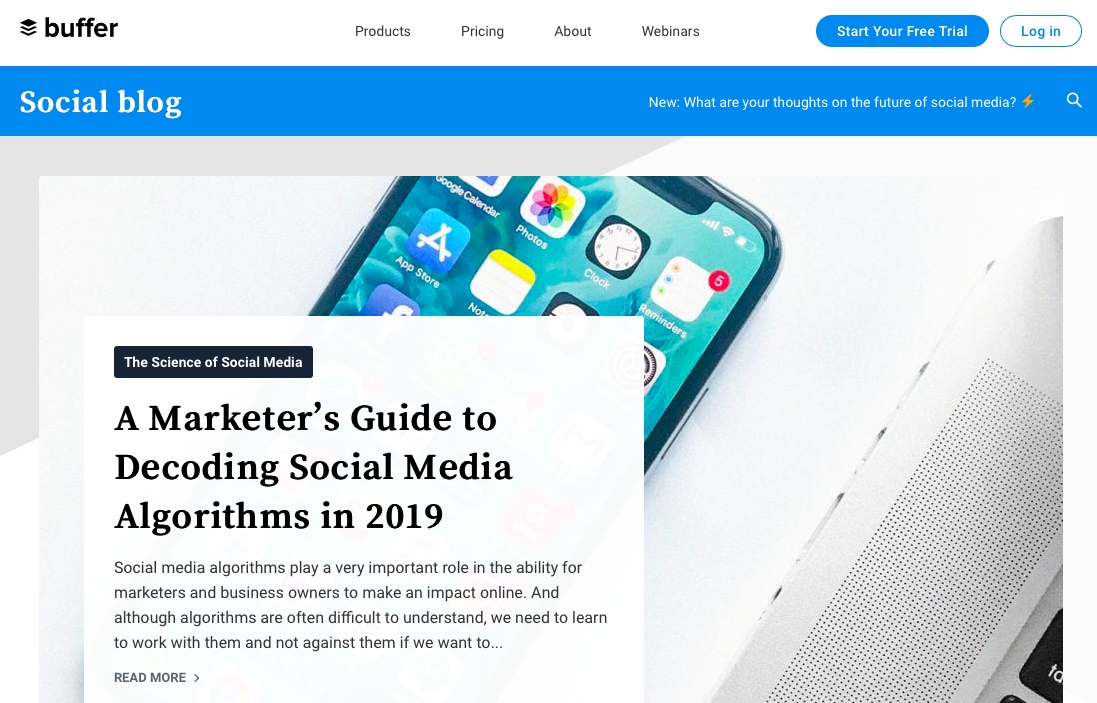 Others, like Trello (a project management tool), have a blog but focus most of their efforts on growing their user base through word-of-mouth. They give away a free version of their tool that is still incredibly functional for individuals, who then recommend it to others.
18. Hold Live Events
As much time as people spend in front of screens, real-time, face-to-face communication still has immense benefits. Allowing potential customers to see the faces behind your brand helps build trust between you and your prospects. It also gives customers an opportunity to ask questions about your software.
Webinars with product demos and Q&As are one example of a live event. They're an easy way to deliver all those benefits to prospects as a group.
Don't limit yourself to webinars, though. The real world is filled with opportunities for live events that will help keep your pipeline full.
Bizzabo, who offers event marketing software such as branded event apps, touts the benefits of exhibiting at trade shows and conferences.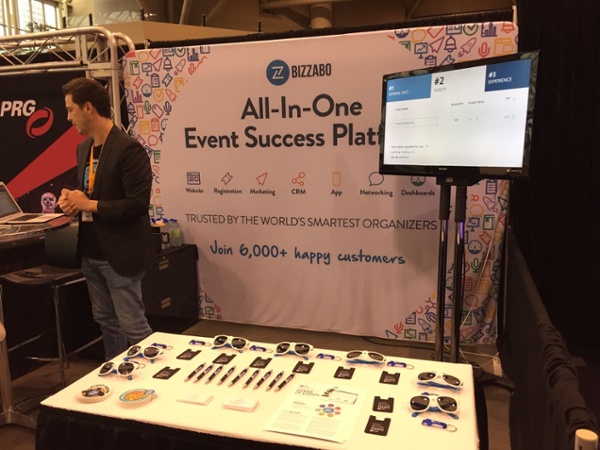 (Source)
Their booth is an integral part of their middle-of-the-funnel marketing initiative, giving already interested buyers the chance to learn more about the product from a live representative.
Radius, a B2B business intelligence platform, hosted a "sales acceleration dinner" during Dreamforce, one of the world's largest software conferences. The VIP experience keeps things moving along the pipeline by pairing key prospects with C-level executives.
19. Influencer Marketing
Influencer marketing is the strategy of reaching new audiences by sponsoring content for social media influencers. An influencer is anyone who has the power to influence the purchasing decisions of others. Those with a social media following of millions are considered macro-influencers, while those with only a few thousand highly engaged followers are known as micro-influencers.
As of January 2018, brands have spent over $1 billion on influencer marketing. While the strategy is most often associated with B2C companies, B2B companies stand to benefit too.
However, because SaaS purchases usually require a lot of research on the part of the buyer, decision makers are not likely turning to their social media feeds for suggestions on what to buy. SaaS companies can get around this by partnering with the right technology and business influencers.
Michael Brito, from the Marketing Land blog, suggests using Onalytica to find leading influencers: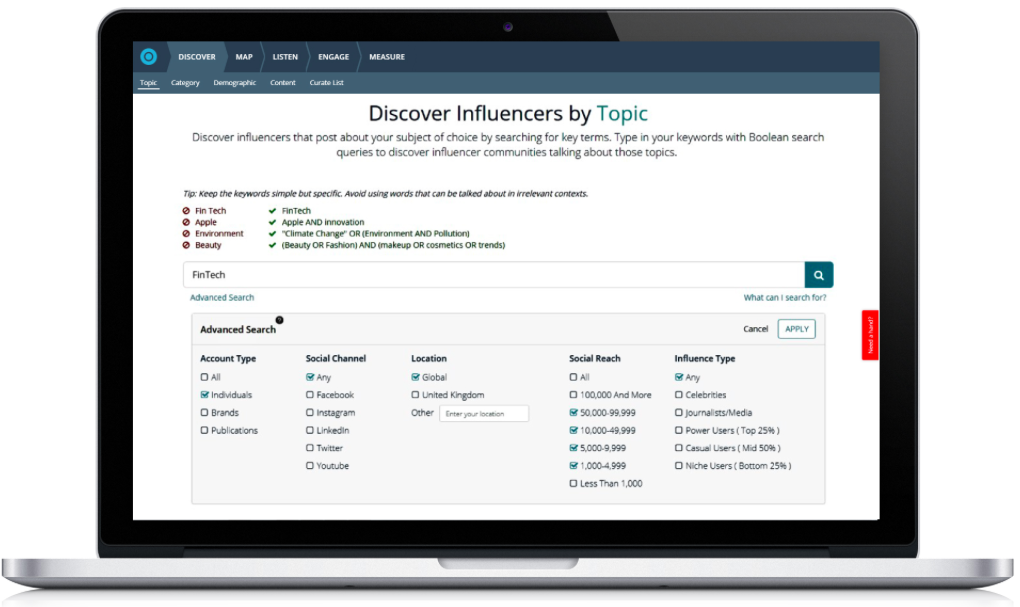 (Source)
With Onalytica, you can find influencers by type (celebrities, journalists, power users, etc.) and topic (artificial intelligence, chatbots, etc.) easily.
20. Remarketing
Remarketing is the practice of targeting ads to people who have already visited your site. It's easy to do with campaigns like Facebook ads. Simply add the Facebook pixel to your site's code, and the platform will walk you through retargeting during the setup of a new ad.
Lumension, a provider of endpoint management and security software, used remarketing to great success. With the help of their marketing agency, they mixed offline and online events by cross-referencing site visitors with conference booth attendees: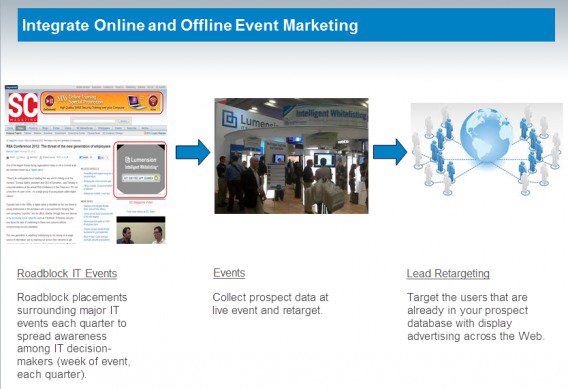 (Source)
The results? Lumension's lead volume went up by 81%, despite a PPC budget cut of 30%. It also increased targeted influencer traffic by 10%.
The takeaway here is that remarketing does not have to be a cookie cutter approach. Some out-of-the-box thinking and the right strategists on your team can go a long way.
21. Email marketing & drip campaigns
Email marketing is an essential part of any marketing strategy. With social media algorithms making organic reach increasingly difficult to achieve, being able to send directly to a customer's inbox is extremely powerful.
One study by Email Marketing Gold found that for every dollar spent on email marketing, the return on investment was $40: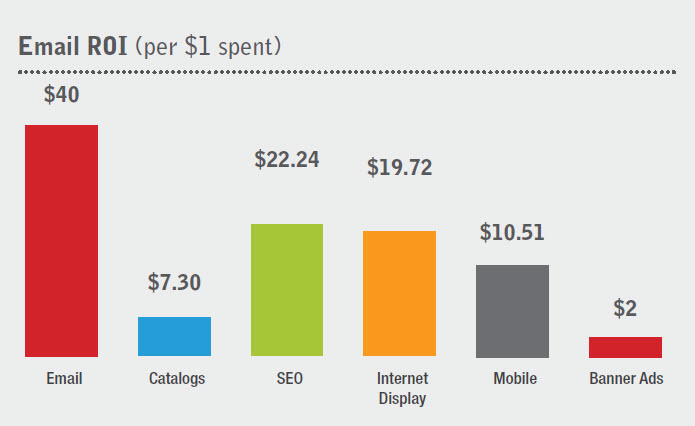 (Source)
ProdPad, a product management software, used email marketing to increase their conversion of trial to paid users by 100%. They did this by updating a welcome email sequence to reflect in-app onboarding, that way trial users were never left scratching their head about how to use their product: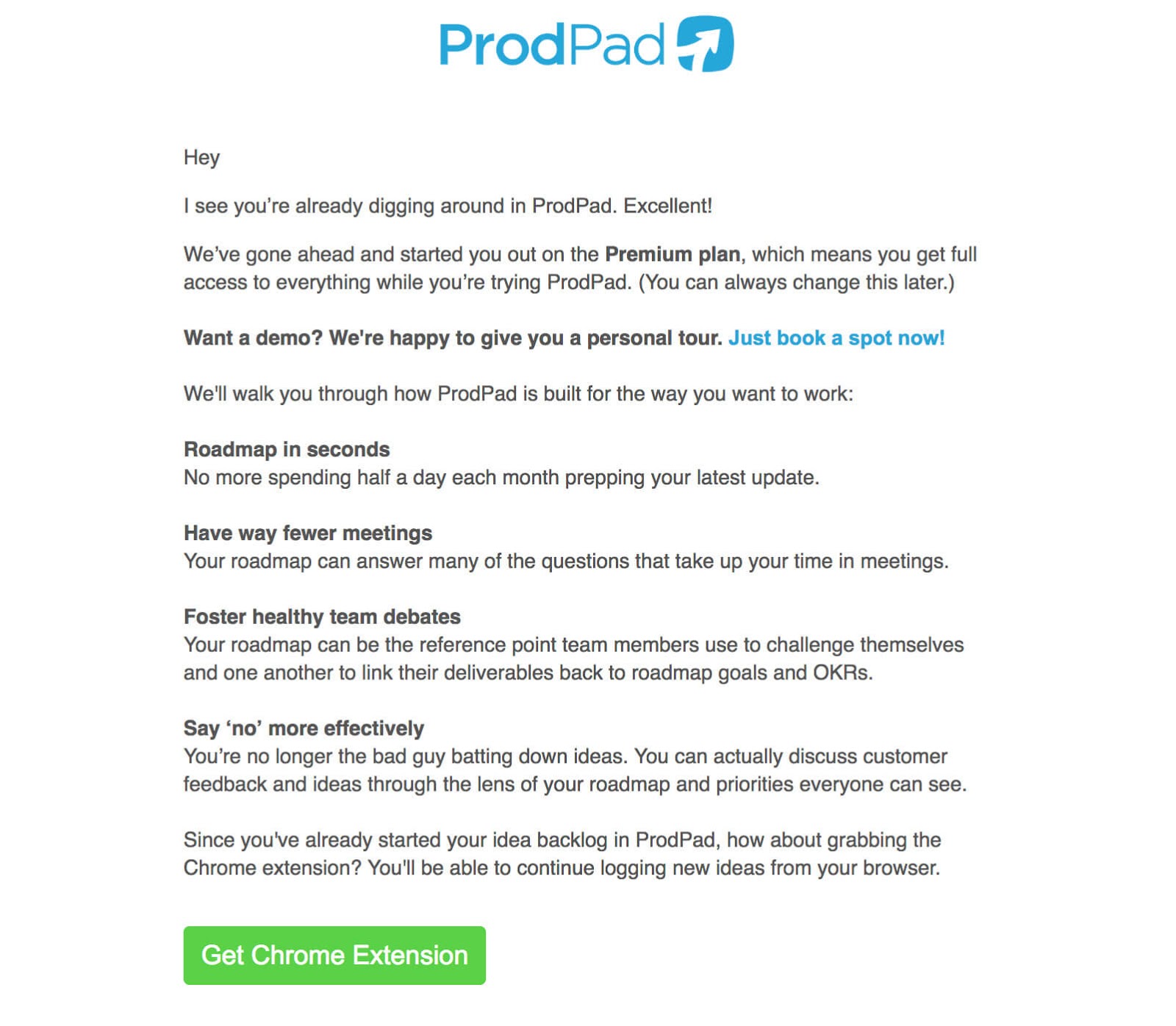 (Source)
Groove, the customer support software, received 250,000 visitors per month, and were able to grow their revenue to $500,000 per month, by using email marketing to generate interest in their software: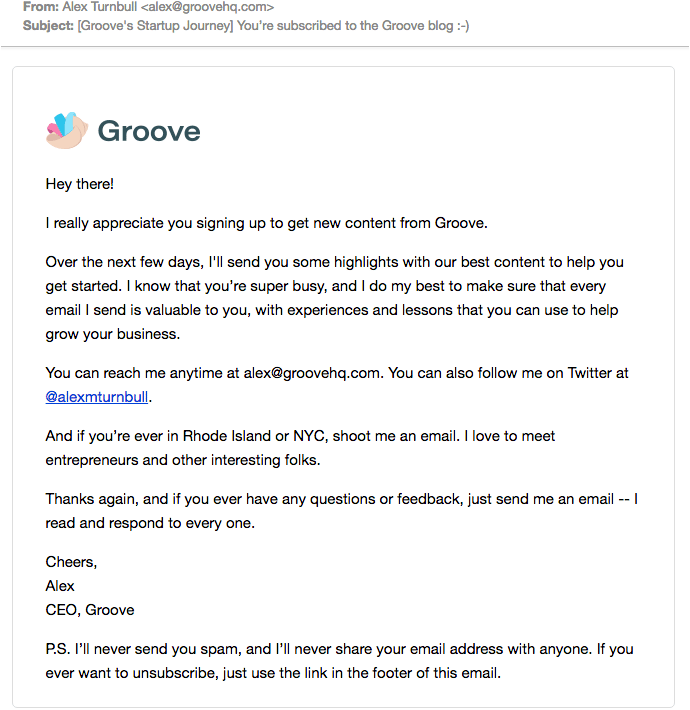 (Source)
Groove sent five emails over 12 days that shared the blog's best content, working in an offer for a free trial of the software. In the end, 10% of blog subscribers converted to trial users.
22. Product Trials
Product trials allow buyers to test out software before agreeing to purchase. They provide buyers the confidence that the tool is the right fit for them.
Another way Groove was able to increase their number of trial users was by restructuring their pricing model. They started out with a freemium pricing option that was meant to disrupt the industry:
(Source)
This structure, however, only saw a conversion rate of 1.11%. Hardly disruptive.
Groove tested two more pricing models before finally settling on a winner: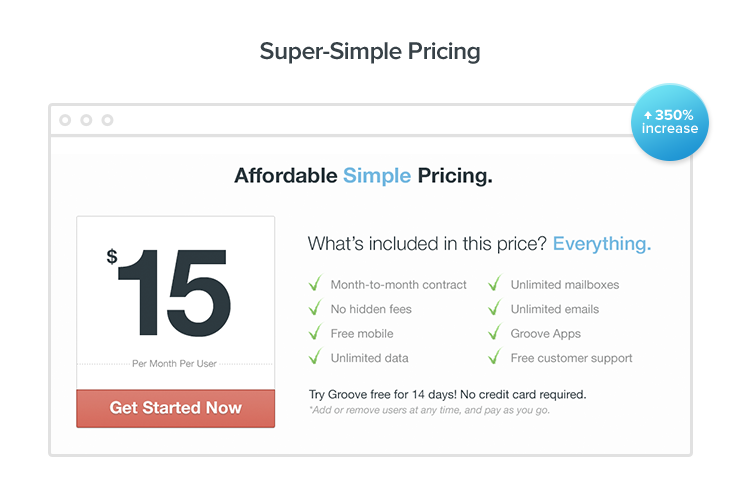 (Source)
This new pricing model boosted their trial user signup rate by over 350% and increased overall revenue by 25%.
The takeaway? Offering a free trial on its own is not likely to result in users rushing to sign up. Thorough testing of pricing models and landing pages is essential for achieving the conversion rates you're looking for.
23. Referral Marketing
Referral marketing is simply a word-of-mouth fueled campaign. It leverages the incredibly potent power of receiving recommendations from someone you already know.
A few SaaS companies have used referral marketing to immense success. Evernote, a note-taking app, used the strategy to grow their user base from 100,000 at the time of launch in 2008 to 200 million in July 2016. The company is currently valued at $1.2 billion.
Then-CEO Chris Libin noted that they didn't spend any money on advertising or SEO at that time.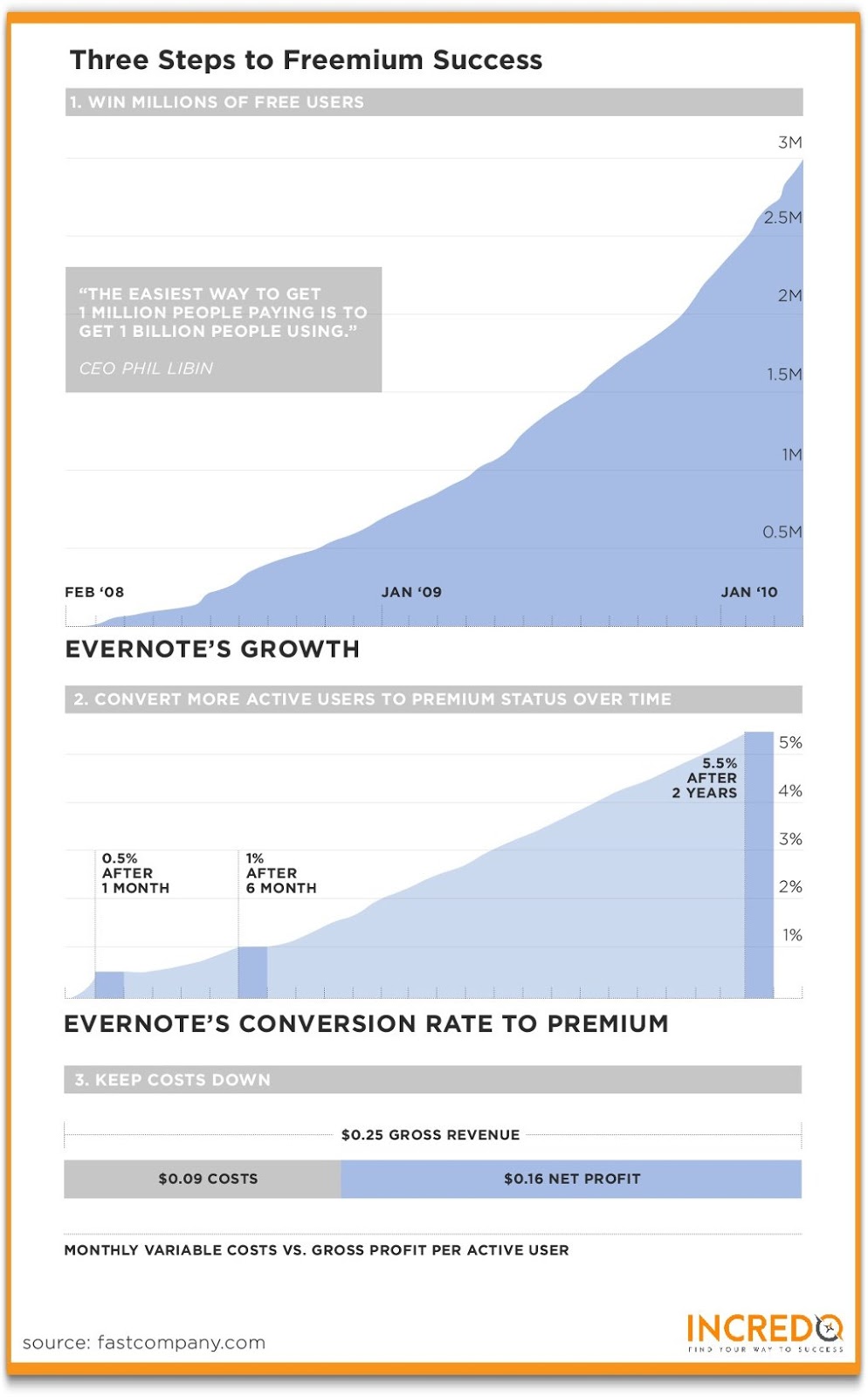 (Source)
Of the first 100 million users, 13% of them were referrals. Evernote's premium features could be unlocked for $5 per month, but for every successful referral that users make, they could amass a credit and unlock the features for free.
24. Employee Marketing
Many employees are willing to become brand advocates, especially if it's as easy as sharing company content to their social media pages. The trick is to train employees as if it were any other campaign, focusing on strategy and measurable outcomes.
Neil Patel, founder of Kissmetrics and Crazy Egg, suggests using Smarp, an app built for employee advocacy. Smarp pulls all company news and content into a single feed. Employees can then select and curate the content that resonates most with them for reposting to their own feed.
The overview dashboard shows how well this strategy works: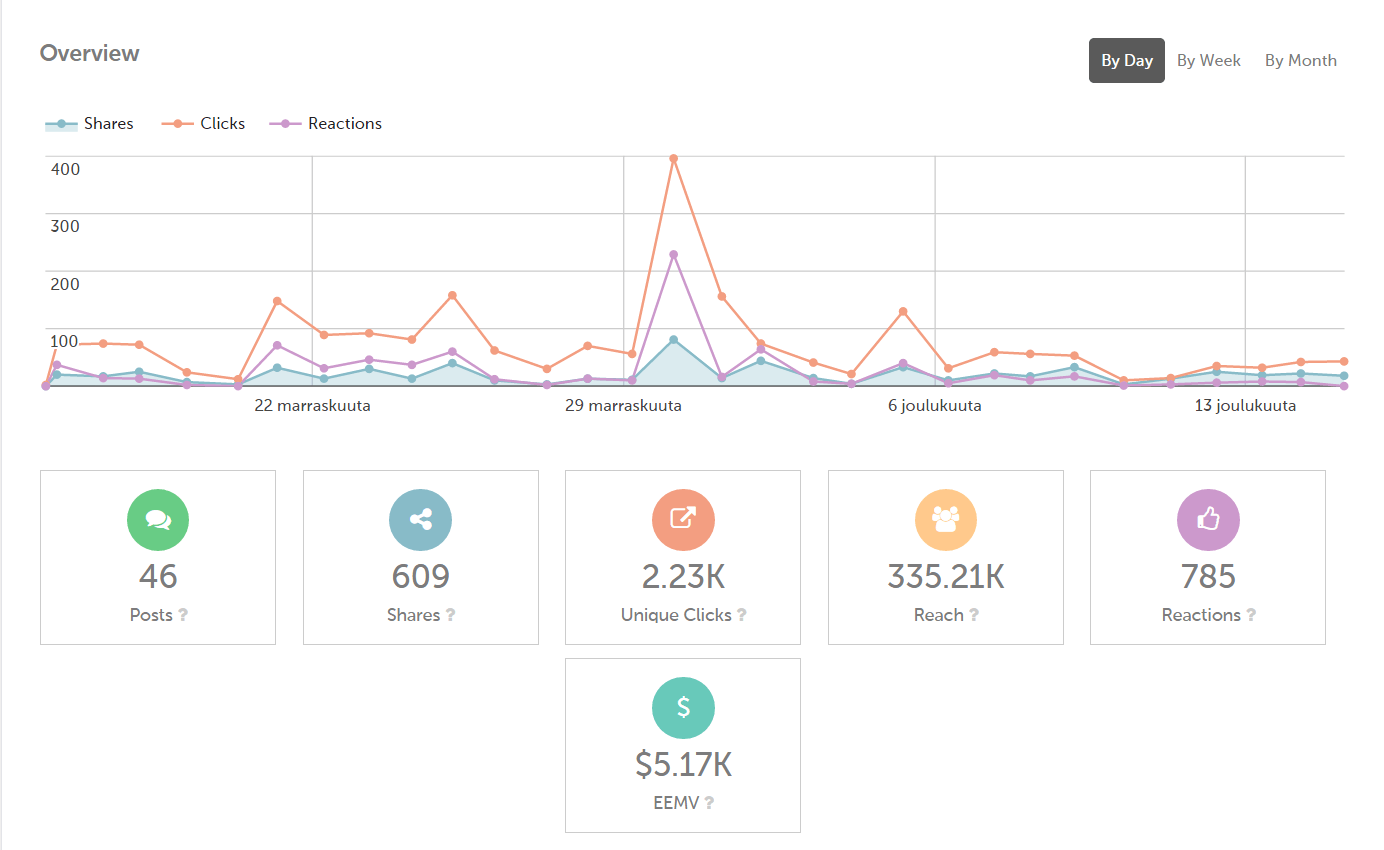 (Source)
In this example from Smarp, employee marketing has helped content reach over 335,000 people and has resulted in 2,000+ clicks. A consistent employee advocacy program has the potential to significantly increase brand awareness over time.
25. Co-marketing
Co-marketing is when two brands launch a marketing campaign together. It leverages the existing audiences of both brands to effectively double their reach with less effort.
Chatfuel, a Facebook Messenger-based chatbot for sales and support, teamed up with HubSpot for one such campaign. Together, they offered an eBook about how to build a chatbot.
To download the offer, you have to chat with a HubSpot bot in Facebook Messenger who collects your name, company name and size, and email address: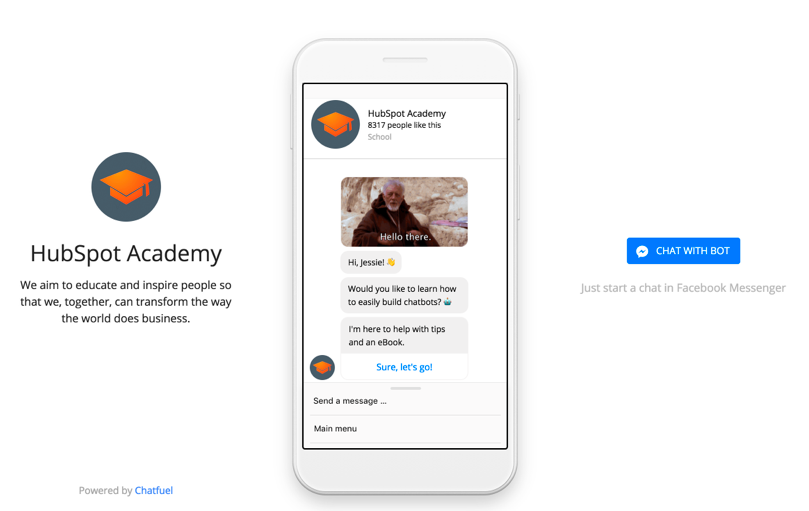 (Source)
You're then directed to a co-branded download page with two CTAs at the bottom: one for HubSpot and one for Chatfuel.
Chatfuel, which was founded in 2015, benefits by piggybacking off of HubSpot's well-established reach and clout. HubSpot, meanwhile, gets to position itself as an authority on a relatively new marketing technology. It's a win-win for both companies.
Start Developing a Winning Marketing Strategy
There are countless ways to market your software. Whether you have a large, small, or even nonexistent marketing budget, there's a strategy that will help you attract your ideal customers and speed up your pipeline.
One thing's for sure: in this day and age, there's a lot of content creation involved in a winning marketing strategy. Luckily, having the right marketing consultant on your team can make the process easy and affordable.