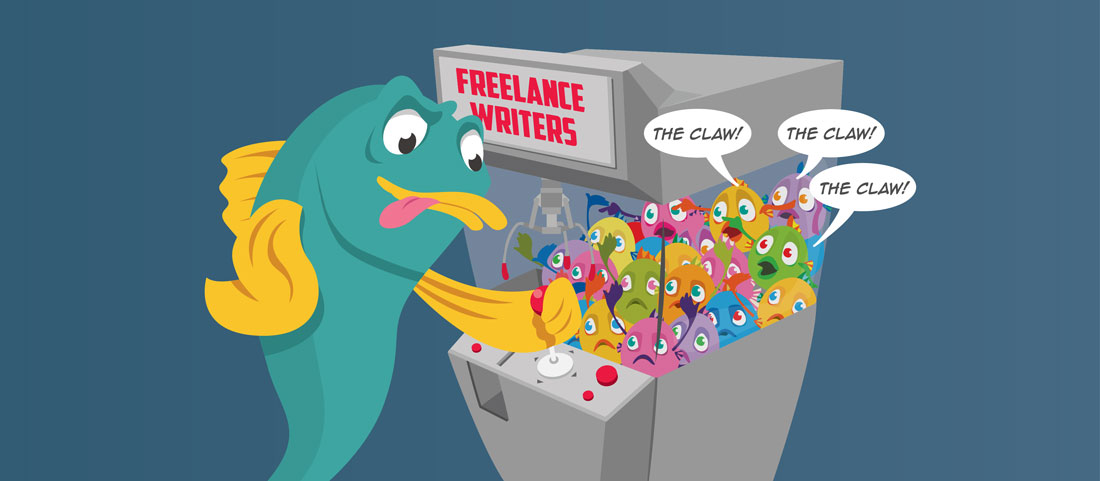 26 Nov

How to Find Freelance Writers: The Ultimate Step-by-Step Guide

How to Decide Between Writers
Now, it's time to pick a writer from your pool of applicants.
If you're like me, you won't go with the first person who reached out but instead want to evaluate all of the applicants you received and narrow it down to your top choice.
So how do you do that?
The first thing I do to stay organized is to label all of the emails I received from writers. That way I can get them out of my inbox (I'm a big practitioner of Inbox Zero) and have them all stored in one place:

I manually label these emails as they come in (you could probably use Zapier to do this automatically). Then after some time has passed (one week to a month), I can search the label in Gmail and evaluate all the writing applicants at one time.
Once I get to the step of trying to decided between different writers, I add applicants to a Google Sheet.
Here's a look at one of my sheets: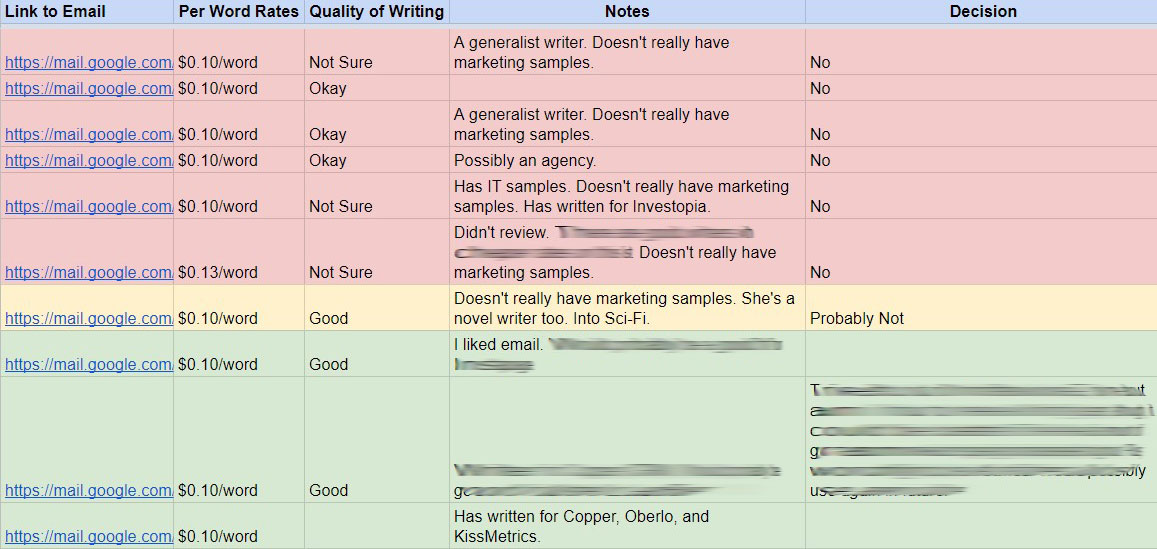 I create a column for each of the following:
Link to email. In this column, I add a link to the email in my inbox so I can quickly find it and not have to search in Gmail.
Per word rates. While we like to work with writers on a flat rate per article, evaluating writers on their per word rates allows me to compare each writer's pricing.
Quality of writing. In this column, I try to give a score to the writer's content based on flow, grammar, style, and simply just how much I liked their writing. You can use any type of score you want. I use labels like "Okay", "Decent", "Good", etc.
Notes. In this column, I can mark any specific notes about a writer. For example, I'll put if they have examples in a specific industry, specific clients they've worked with, and anything else of interest.
Decision. In this column, I make a decision on whether or not I'd want to move forward with this writer.
This is just how I break everything down and stay organized. You can obviously go more in-depth with this step. But, I'd recommend at least doing something similar to stay organized and so you can evaluate writers against one another to uncover the best applicants.
Here are some things to consider when looking at different writers:
Pricing & Quality of Writing
Freelance writers typically price their work one of two ways:
Per word (ex. $0.10 per word)
Flat rate, negotiated fee per article (ex. $200 per 1,000-word blog post)
It's rare that a freelance writer will charge an hourly rate. This is because of one simple fact: it penalizes the writer for being efficient.
The more efficient the writer is and the quicker they can complete your article, the less they will get paid. As they work with your company for longer, they'll begin to understand your style better. Therefore, it will typically take them less and less time to create content. Hourly pricing penalizes this progression whereas flat rate pricing provides an incentive to be more efficient.
Personally, I like to work with writers on a flat rate. This makes things easier to budget.
How much can you expect to pay writers?
I'm all about paying writers fairly for their work. If you've come to this post looking to find a writer that will write a 500-word blog post for $5, bill you $0.01 per word, or whatever low-ball offer you can think of, this is not the article for you.
On a side note, you will never receive quality content for that price. If you do find a writer willing to accept such a low rate, it's likely because they live in a foreign country, English is their second language, and/or the articles are being spun (content created by combining a bunch of existing articles into a new one using software).
You will never receive in-depth, quality, well-researched content (the kind that will actually get you results) at that price.
This post is about finding writers who will actually provide quality content.
With that said, what can you expect to pay?
One of the biggest things that you'll notice is that pricing will vary widely. However, I've found a cost of $0.10 to $0.15 per word to be the average for writers with experience in a given industry, have solid writing skills, and have published article samples.
However, let's take a deeper look at the quality you might expect at each price range:
Writers Who Charge $0.05 Per Word
On the low end, you shouldn't expect to pay any less than $0.05 per word. This is the absolute lowest you should go if you want to find a decent writer. However, this rate is still quite low and you'll likely only find inexperienced writers at this price (ex. Students, freelancers just starting out or have only been freelancing for a short while, or writers who don't have many published articles yet).
Finding a good writer in this price range is tough and I would avoid it altogether. I've worked with writers who charge $0.05 per word and most often the writing isn't very good and I end up having to heavily edit the article or rewrite it completely.
These writers barely scrape the surface and only offer generic advice. You also have to do a lot of fact checking to double check what they've written.
Common errors you might see include (these can happen at any price range but I've seen them the most at this price):
There is a lot of "fluff" or filler content
The article offers general advice and there are few specific examples
The content lacks visuals or images are thrown in randomly
The writer doesn't fully understand revision requests and you have to repeat yourself multiple times (ex. telling the writer an article should be third person instead of first person)
The writing has a lack of flow or is worded poorly
This list can go on and on but to illustrate some of these points further, here are some specific examples of errors I've seen at this level of writing:
Not validating information like pricing or updating company names: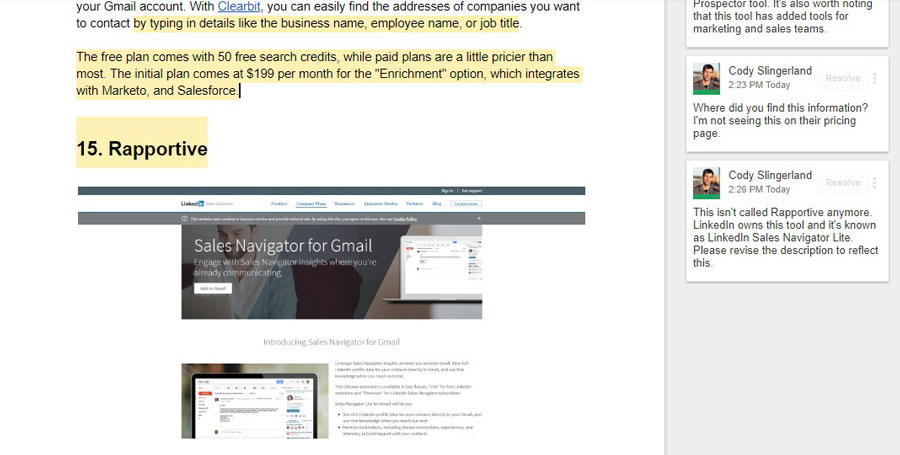 The information is not detailed enough nor very clear (I have to ask for clarification on many points):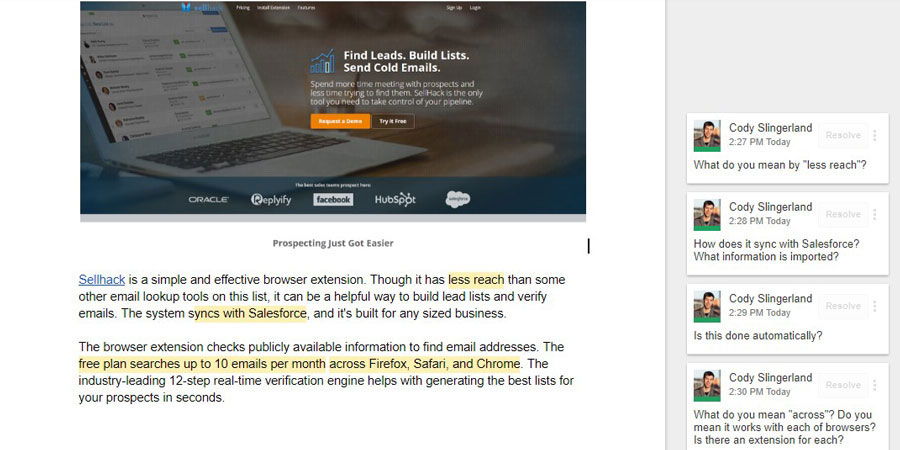 The information is too general and doesn't provide enough detail as to why this software is unique compared to the others on this list article. Additionally, links have UTM codes that should have been removed: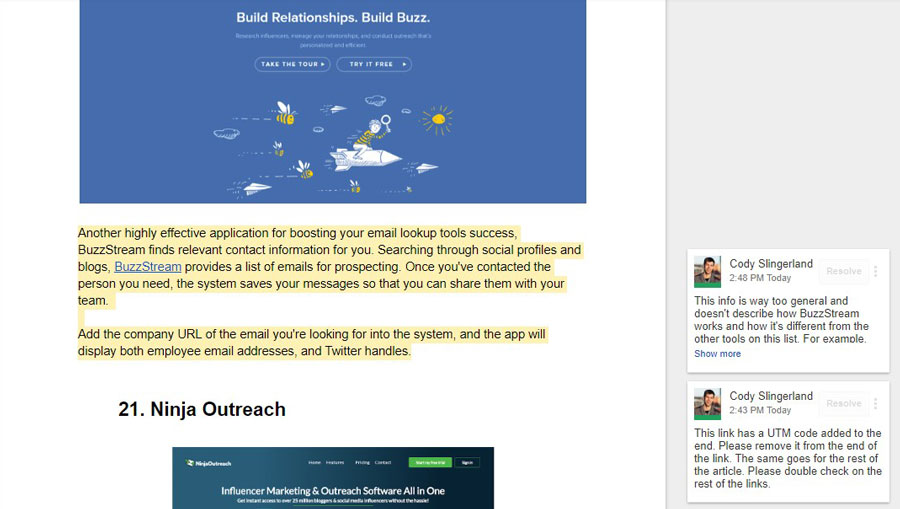 Again, not being clear on certain points. In this example, the software mentioned here uses a credit system as part of their pricing model but the writer fails to mention what a credit gets you. Additionally, the writer uses a blanket statement "the contacts found are often more accurate" but doesn't back it up with any detail or statistics to prove how or why: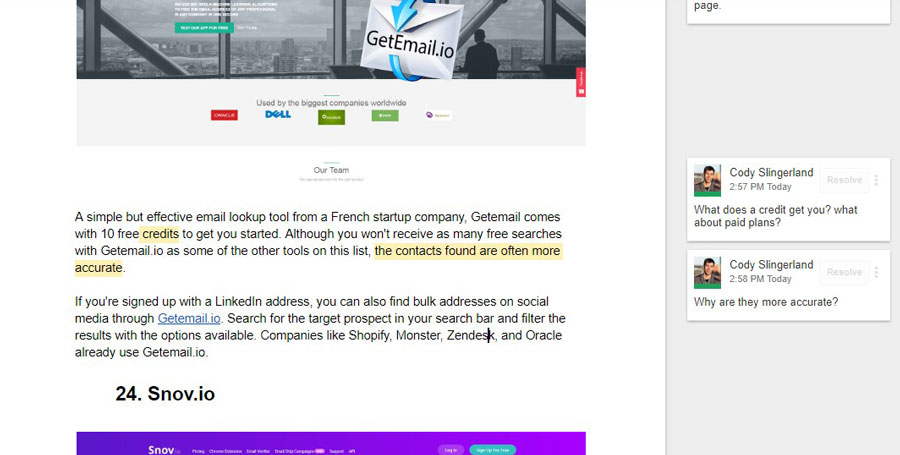 Missing important details like information on pricing, trial length, etc. when comparing different solutions: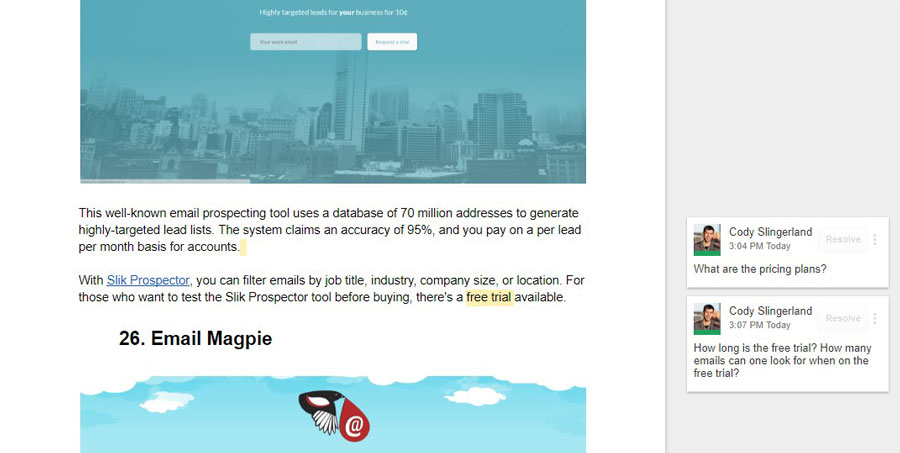 This is just a sample. I'm not saying that all writers at this price range will have these issues but I've included these here to show you that you get what you pay for.
Writers Who Charge $0.08 Per Word to $0.12 Per Word
This is really the range you should be starting at. In this range you'll find writers that have multiple years of experience, have published samples on reputable blogs, and will begin to have industry knowledge (this does depend on the industry, though). I've found writers with marketing, sales, and SaaS experience in this price range.
At $0.10 per word, per blog post rates breakdown to:
$100 for a 1,000-word blog post
$200 for a 2,000-word blog post
$300 for a 3,000-word blog post
What you won't get a this range is someone who is in a highly skilled field that requires deep knowledge (ex. healthcare, law, cybersecurity, data regulation, etc.).
Additionally, you'll likely only receive the writing itself, complementary images (like screenshots), and revisions as needed.
You won't receive keyword researched articles, keyword tracking, and article promotion. This would be extra, have to be done another provider, or have to be completed by you or someone in your company.
Writers Who Charge $0.15 Per Word to $0.25 Per Word
In this range, you will find writers that:
Have been writing for at least a few years
Have multiple published writing samples
And have in-depth knowledge in their industry
This will generally be the upper end for writers in the marketing and sales industry. In this range, you'll begin to find writers for industries that require a lot of schooling like healthcare and law.
You may also find that some smaller agencies will charge this amount. However, most agencies will struggle to provide value at this price range (if they have to pay their writers $0.10 to $0.15 per word, it's difficult for them to provide much value and still maintain a profit if they only charge slightly more per word).
Writers Who Charge $0.30 Per Word & Up
In this range, you'll either find freelance writers with extensive knowledge in their field and/or are a well recognized writer. You'll also find content agencies that can handle other content marketing activities such keyword research, posting content to your website, and article promotion.
Other Factors to Consider
Of course, pricing isn't the only factor to consider. Here are some other questions to answer:
How is the quality of writing? Are there a lot of spelling or grammatical errors?
How is their style and writing tone? Each writer's approach is different. You can address tone and style in your writing style guide, but it's best if you can find a writer that is a closer fit to what you're looking for.
What type of experience do they have? Have they written in your industry before? Are there any notable clients they've worked for?
How to Work With & Manage Writers
Once you've found a writer to move forward with, it's time to let them know.
I typically tell writers that our first article will be a trial. It will still be paid, but this lets them know that it won't necessarily be a long-term commitment if it doesn't work out. If it does, then you will have found a writer you can move forward with.
Here's a templated email that I send to writers to let them know I'd like to work with them and how we can move forward: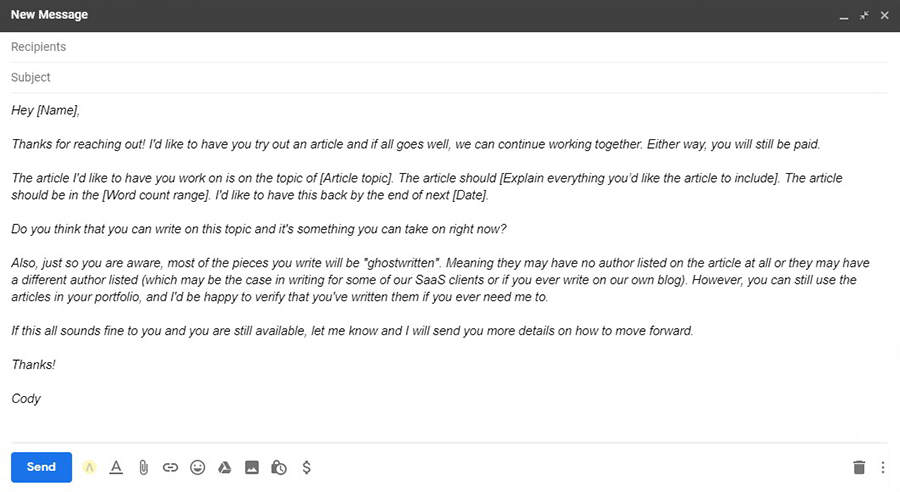 A few things to point out here:
Although this is a trial article, I let the writer know right away that they will be paid. Some cheap companies will try to get away with having a writer create a trial article for free, but I do not advocate this. Think about it, what quality writer is going to spend their valuable time writing an article for free? Not very many (if any at all). So you need to be willing to spend some money at first to find a quality writer that fits your style (even if that means it doesn't work out at first).
I try to be as specific as possible regarding what I want from the writer. I let them know the topic and cover any specifics I want the writer to include (such as headers, keywords, visuals, etc.). I also let them know how long the article should be and provide a due date (I usually give about a week or so). All of this information helps the writer better understand what to include, and in turn, can help to produce a better article. Writers, just like anyone else, aren't mind readers. If you don't provide specifics, you're likely to receive an article you aren't completely satisfied with.
I let the writer know right of the bat that their content will be ghostwritten. This means that they won't have an author bio nor will their name be credited on the article. As an agency, we write for company blogs that either don't credit an author at all or they credit another author (ex. The CEO or Head of Marketing as the "writer"). However, this is completely up to you how you want to handle this. Every company is different. On the plus side, I let the writer know that they can still use the writing in their portfolio and that I am happy to verify they wrote it.
Once the writer gets back, you can both confirm and move forward. After this step, I will include any more specifics that I may have left out from the previous email (like a client's name) and send along our blog style guide.
How to Evaluate the Writer
Once the writer gets back to you with their first article, it's to review and ultimately, decide if you want to work with them on an ongoing basis.
Here are some questions to answer:
How long does it take for you to review their content and suggest edits (or even make them yourself)? Personally, I don't want to spend more than one to two hours on a specific piece. If it takes me more than that to go through a 1,500-word article either suggesting edits or making changes myself, I might as well have written it myself (since I know personally I can write it in about three hours).
How responsive is the writer? Do they respond to your email promptly?
How long does it take for them to return the completed article? Did they send you the completed article before or by the deadline or was the piece delivered late?
How quickly do they address revisions? Do they handle edits within a day or two or does it take them a full week to complete any revisions you've asked of them?
While answering these questions, it's also important to understand that a writer won't always "knock it out of the park" on the first go. Sometimes it takes time for a writer to understand your style and what you're hoping to achieve.
That said, if you provided the writer with enough detail as to what you wanted prior, it should be about 90% there and you shouldn't have to spend hours reviewing the content or going back and forth on edits.
If you've found a writer that you're satisfied with and hits all of the above questions with positive answers, congrats! You've found a quality writer that you can move forward with. It's a tedious process but going through this "funnel" of qualification will ensure you find the best freelance writers to work with your company.
Tips for Working with Freelance Writers
In this last section, I want to cover a few tips for working with freelance writers to help you save time and work together more efficiently:
Create a Writing Style Guide
A blog or writing style guide is a document that covers the style, voice, preferred punctuation, and overall goals of your blog/individual content pieces.
Maintaining consistency when working with new and/or multiple freelance writers can be a challenge. However, using a style guide can help writers learn what you're looking for quicker and minimize the number of revisions needed (and the time you need to spend going back and forth on edits).
So what does a style guide include?
Realistically, your style guide can be as loose or in-depth as you'd like it to be. It depends how you treat your blog and what you want writers to know going forward.
Our style guide at Jawfish Digital covers the following:
Overall goals
Things to avoid
Formatting (Punctuation, Capitalization, etc.)
Submission guidelines
For example, in the Punctuation section, we tell writers to:
Use the Oxford comma
Capitalize words with four or more letters in headers
Put punctuation inside quotes. "This is how we punctuate quotes."
In the Submission Guidelines section, we let writers know how to submit their work:
Submit your blog post as a Google Doc and create a shareable link with "Edit" access.
Before submitting, please install the Page Sizer add-on for Google Docs and set the height to "120". This will reduce the number of page breaks so that the piece reads more like a traditional blog post.
Please check your work for spelling and grammar before submitting it. We recommend using Grammarly to check your work (this is a free app).
Have Writers Submit Their Work via Google Docs
Google Docs has really become the standard for writing and collaboration. Most freelance writers will submit an article to you via Google Docs anyway. But just in case, make sure to let them know that you only accept writing via Google Docs. This information is good to include in your writing style guide.
The reason for this is because Google Docs make it super easy to collaborate and suggest edits. For example, you can comment on specific areas to let the writer know something needs revised:

You can also use set the doc to "Suggesting" mode in order to suggest edits (ex. Delete a line, replace a word, etc.):
Use Grammarly to Check for Errors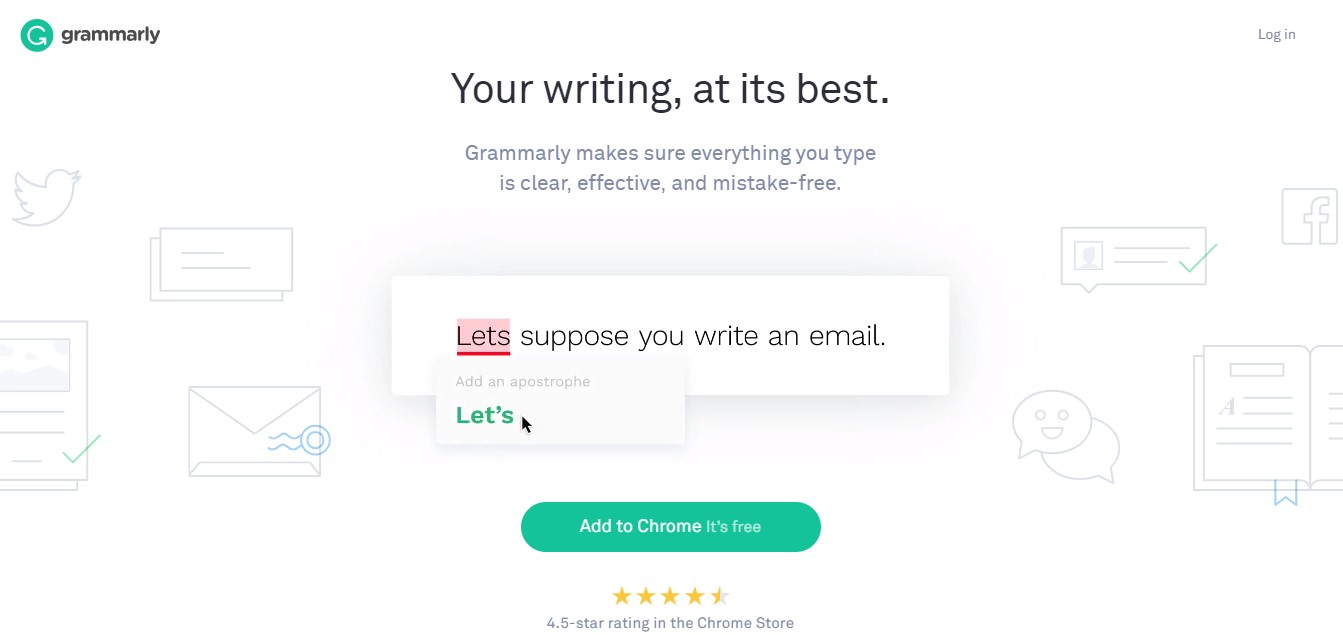 Grammarly is free app that checks your writing's grammar, spelling, and phrasing. The app can be added as a Google Chrome extension so you can check your writing directly in forms or even a WYSIWYG editor (like the text editor in WordPress). You can also login to your Grammarly account and paste in your writing for Grammarly review.
Grammarly can even be used directly in Google Docs. Either way, this tool is extremely helpful for checking your content before you post it.
Use the Page Sizer Add-On
One of the downfalls of using a text editor like Google Docs (or really any word processor) for online content is the continual page breaks. A standard page in Google Docs is 8.5" wide x 11" long. This standard size sheet can fit about 500 words, even less if you have a few large images. If you produce long-form content (which you should be doing), you'll have a lot of page breaks in a single document.
Most of you reading this guide will be hiring a writer for your blog. On your website, you don't have page breaks every 500 words. So this problem can make the content a little harder to review and it can be difficult to imagine how it will flow once published.
This is where you can use a Google Docs add-on called Page Sizer. This add-on allows you to set the size of a single page in Google Docs to as much as 120", allowing it to read and look much more like a live blog post: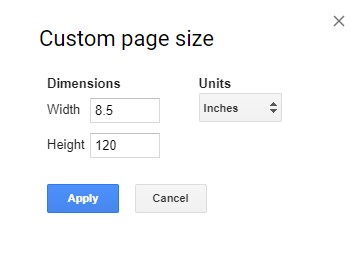 Now Go Out and Find Some Writers!
There you have it, my entire process for finding, reviewing, and continuously working with qualified freelance writers. I hope that you've stuck with me throughout this entire guide and you have been able to learn from this outline.
I know that it can be a long and tedious process (that's why going with a content agency might be a better bet). But, if you're set on working with freelance writers, following this process will allow you to find the best applicants. If you're debating between hiring full-time employees, freelancers, or a content agency, I recommend checking out our guide on outsourcing content marketing.
Either way, by no means is the process set in stone. Feel free to adapt it to your own needs and be sure to come back here to let me know what works for you!
Cody is the CMO at Jawfish Digital. He has over 5+ years of experience in Web Design and Content Marketing. He's helped create long-form, SEO-driven content for companies such as Instapage, Nutshell, Leadboxer, Wonderflow, and more.